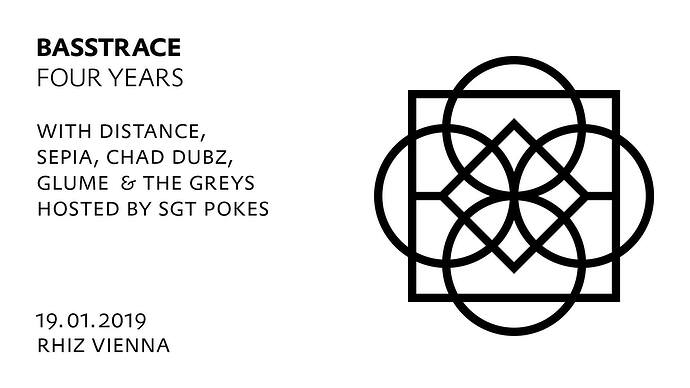 SYSTEM. ROOTS. CULTURE.
─────────────
We are hitting our four years mark and it's been a hell of a ride. To celebrate and give thanks this one is a present for YOU! Because without you, we would have never gotten so far.
So spread the word and join the dance: Basstrace is four!
─────────────
// Lineup - hosted by SGT Pokes
✤ Distance (uk)
Chestplate, TectonicRecordings, GetDarker
[Listen: https://goo.gl/sb7WTN]
alongside CNCPT Collective taking over
✤ Sepia (uk)
Wheel & Deal Records, Infernal Sounds, Deep, Dark & Dangerous, CNCPT Collective, Basstrace
[Listen: https://goo.gl/vcYZ9y]
✤ Chad Dubz (uk)
Foundation Audio, Boka Records, CNCPT Collective
[Listen: https://goo.gl/ZPRtvn]
✤ Glume (uk)
Encrypted Audio, Albion Collective, CNCPT Collective
[Listen: https://goo.gl/Caatdj]
✤ The Greys (uk)
Sub.mission, CNCPT Collective
[Listen: https://goo.gl/22THQA]
with
✤ Basstrace Clan All-Stars
✤ Fractasl (Syrup Visuals)
───────────────
// STREAM
00:00 - 02:00 h Basstrace Radioshow on SUB FM
Worldwide in session LIVE from Rhiz Vienna
Tune in via www.sub.fm or join us @ rhiz
───────────────
// Facts
DATE: Sat, 19.01.2019
TIME: 22:00 - 06:00 h
COST: 10 < 00:00 > 12
PLACE: rhiz, U-Bahnbogen 37, 1080 Vienna (https://goo.gl/maps/z5Wg5KgnEdq)
───────────────────
POWERED BY Modulith SOUNDSYSTEM
───────────────────
// Links
Music:
https://soundcloud.com/distance
https://soundcloud.com/sepiamusicuk
https://soundcloud.com/chadgotdubz
https://soundcloud.com/glumeuk
https://soundcloud.com/greysanonymous
Shop:
https://djdistance.bandcamp.com
https://sepia.bandcamp.com
https://chaddubz.bandcamp.com
Visuals:
facebook.com/syrupvisuals
Social Media:

https://twitter.com/distance_dj
https://instagram.com/dj_distance

https://twitter.com/sepiamusicuk
https://instagram.com/sepiamusicuk

https://twitter.com/srsf4ce

https://twitter.com/KrewDubstep
https://instagram.com/greybeards