So I'm in a big transition right now. I have just moved so I'm thinking about the idea of rebuilding my studio and how I want to set it up.
First off though, I'm trying to get my laptop set up as I have just bought a new laptop in the last couple of months and it is not fully configured yet.
I have upgraded to Live 9.5 (9.7 was released today) and there are some significant changes. I couldn't get past Live 9.3 due to my old laptop being 32 bit. I have gone fully 64 bit but that is seriously affecting my vst's.
I've decided that I'm just going to have a few vst's and instruments and get to know them well rather than have 100's of vsts to the point it was sort of overwhelming to choose sometimes.
That brings up the point of having vst's that are 64bit compatible, but there is always this push pull thing with software and hardware. I'll check out a vst bridge system if I have to.
I don't know, random production thoughts as I try to get my 64 bit Reaktor 5 vst's to show up in Live (re-installed it and put it in my custom directory and it's now working).
To give you a little perspective, my studio is not as simple as putting my instruments on a table and going from there although I am thinking about that aspect.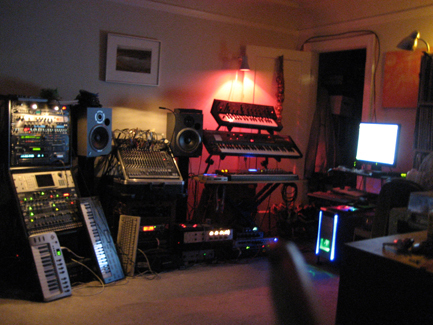 Here was my studio in Seattle. That sampler has been retired for quite a few years, but I'm thinking about putting back into action again. But this is a broader, longer project. I'm just trying to get my laptop functional right now.
Which is another thing. I need a stereo audio editor. I've been using SoundForge for years but the license was bought by my old job and registered to my old job's email account. SoundForge has been bought out, so I don't even know if I'm going to go down that route.
I guess I'm learning Audacity in the meantime.