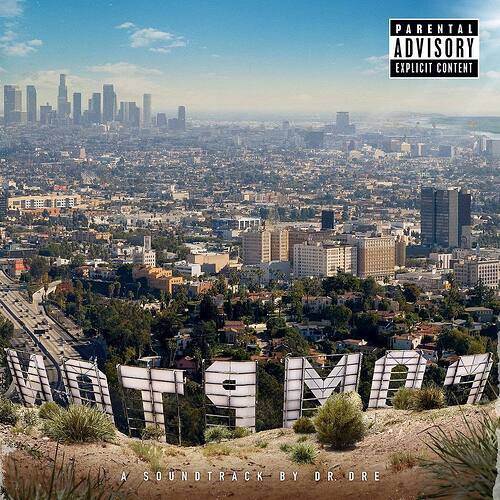 Tracklist:
Intro
Talk About It [ft. King Mez & Justus]
Genocide [ft. Kendrick Lamar, Marsha Ambrosius & Candice Pillay]
It's All on Me [ft. Justus & BJ the Chicago Kid]
All in a Day's Work [ft. Anderson Paak & Marsha Ambrosius]
Darkside/Gone [ft. King Mez, Marsha Ambrosius & Kendrick Lamar]
Loose Cannons [ft. Xzibit & COLD 187um]
Issues [ft. Ice Cube & Anderson Paak]
Deep Water [ft. Kendrick Lamar & Justus]
One Shot One Kill [ft. Snoop Dogg]
Just Another Day [ft. Asia Bryant]
For the Love of Money [ft. Jill Scott & Jon Connor]
Satisfaction [ft. Snoop Dogg, Marsha Ambrosius & King Mez]
Animals [ft. Anderson Paak]
Medicine Mane [ft. Eminem, Candice Pillay & Anderson Paak]
Talking to My Diary
---
"Dr. Dre has announced Compton: The Soundtrack, inspired by his work on 'Straight Outta Compton', the upcoming N.W.A. biopic. The album is out August 7, exclusively on iTunes' Apple Music.
Dre made the announcement on his Beats 1 radio show "The Pharmacy". He was joined on today's episode by Ice Cube and Straight Outta Compton director F. Gary Gray.
The album was first revealed by Ice Cube, who also reiterated that a planned N.W.A. reunion tour might be happening. Recently, a representative for Dre and Eminem (who is also rumored to partake in the reunion) denied that anything was in the works.
The album comes on the heels of the wait for Detox, Dre's long-gestating follow-up to 1999's The Chronic 2001. After releasing singles such as "Kush" and "I Need a Doctor", and teasing a February 2011 release, nothing happened. Last summer, reports emerged that Dre had dropped the Detox name entirely. Now, Dre has revealed that he scrapped Detox because he was not happy with it:
I didn't like it. It wasn't good. The record, it just wasn't good. … I worked my ass off on it, and I don't think I did a good enough job."