@4ndY looks like the images for users with the default 'letter' avatar pictures are broken at the moment.
Don't know why that has happened.

Should be fixed now.
Dunno if this is an error or not, but my avatar suddenly changed to my google-profile pic. What gives?
Maybe a login cache issue. Log out, clear cache, log back in without logging into any google services first
If that doesn't work: repeat process with a google logout early on as well (before opening DSF, perhaps in a whole different reboot session after.)
A few hours ago, a technical issue had appeared which brought the forum offline. The issue is now fixed during the unscheduled maintenance, and we are back online. Sorry for the inconvenience.
I get this message on chrome on my phone when I try to go straight to the snh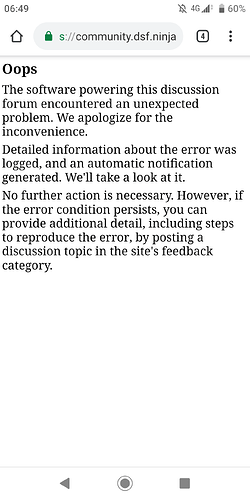 If I switch to desktop mode it's okay though, and then even if I switch it back to the phone browser?
I've been getting that one too randomly
It's just stopped now thankfully!